Arusha National Park
Arusha National Park Overview
Just a short drive from both the city center of Arusha and the Kilimanjaro International Airport lies one of Tanzania's most scenic and rewarding wildlife reserves: Arusha National Park. To appreciate everything that this very special place has to offer, it's important to understand what you can expect to find here. Arusha National Park covers only 137 square kilometers of volcanic landscape in the country's northeast. But what it lacks in size, it makes up for with staggering geological variety. You'll discover emerald green savanna, towering mountains, extinct volcanic calderas, mesmerizing montane forest, and misty alkaline lakes—all packed into a reserve which can be easily explored on a single day's trip. Best of all, the park's environment supports an impressive roster of iconic wildlife species, ranging from familiar plains game to several different species of monkeys and forest birds. Like most of East Africa, Arusha National Park experiences rainy seasons from March to May and November to December, but thanks to an excellent road network, it's easy to access at any time of year.
North eastern Circuit

137 km2 (53 sq mi)

Local Guide
Things to Do in Arusha National Park
Arusha National Park is also the perfect destination for travelers who enjoy a healthy dose of physical activity in tandem with excellent wildlife viewing. For adventurous hikers, the park's most alluring prospect must surely be the exciting climb to the summit of Mt. Meru. This dormant volcano towers over Arusha National Park at an altitude of approximately 4,562 meters, giving the reserve a distinct visual identity—and an irresistible challenge. The ascent typically requires three or four days of hiking, and you can expect to spot a huge variety of bird species along the way, in addition to the occasional colobus monkey or baboon. Intrepid cyclists also won't want to miss the chance to pedal through the park, stopping for prime photo opportunities where buffalo, giraffe, and zebra gather on the plains. You can see these animals and more from an entirely different vantage point, as well: the waters of the Momella Lakes. Hop into a canoe and cruise across the placid surface of these small lakes for an especially invigorating and rewarding experience.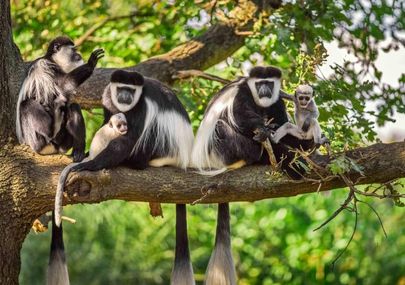 While you won't find major predators like the lion, cheetah, or wild dog here in Arusha National Park, a visit to this charming reserve often serves as just one part of an epic safari itinerary known as Tanzania's Northern Circuit. Travelers embarking on this route can expect to visit Tarangire National Park, Lake Manyara National Park, Ngorongoro Crater, and Serengeti National Park. But the park is also a popular standalone destination for residents of Arusha and travelers visiting on business, and it's come a long way from its humble origins in 1960 as the Ngurdoto Crater National Park. The reserve was originally named after one of its chief geological features, but its identity today as Arusha National Park best reflects its status as a valuable and enthralling destination just a stone's throw from Tanzania's safari capital.
Map