Best Time To Visit Tanzania
Overview
The best time to visit Tanzania depends on the kind of adventure the traveler wants to experience. This beautiful country, Tanzania has something to offer for every adventure lover. Now, you may be a wildlife lover, beach lover, or mountain lover. So, the time of the year you pick depends solely on the adventures you seek. Most travelers visit Tanzania for Climbing Kilimanjaro, game viewing at Serengeti, or a tropical beach holiday at Zanzibar. Accordingly, you are going to find some months more appealing to you than others. So, here's a guide to help you explore the spectacular country.
The best time to Visit Tanzania for Wildlife lovers
Best time for Safari
The best time for a Safari in Tanzania is usually the dry or peak season, which ranges from late June to October It is easier to spot and track wild animals in the dry season. This is the time when the crowd is at its peak and the prices are also high. Another option for safari-goers is to choose the months of January and February. Though there are chances of short showers at night, the days are usually dry and hot. The prices of safari are low and there are very few tourists too. So, this time is best suitable for early-morning game drives.
Pro Tip: Avid Bird watchers should plan their Tanzania trip in the wet season which is from September to April. Here is a breakdown of Safari in Tanzania in the peak season vs. Low season. Hope it gives you some insight before planning your travel.
| Peak or Dry Season | Green or Low Season |
| --- | --- |
| June to October | January to March and November to December |
| High safari prices | Low safari prices |
| Cool and dry weather | The weather is hot and occasionally wet |
| Not many migrant birds present | Best time for bird-watching |
| Most crowded | Less crowd |
| Not many young animals to see at this time around | Lots of baby animals around |
| Great conditions for animal photography | With appropriate lights and green landscapes, photography is ideal. The greenest time of the year |
Best time for Wildebeest Migration
This is the time of the year when millions of wildebeest and zebras migrate from Serengeti National park in Tanzania to Masai Mara National Reserve in Kenya. The best time to witness this iconic migration is between May and September in Tanzania. Come in between January and March, you get to witness the incredible calving season which is Tanzania's Great Migration's best kept Secret.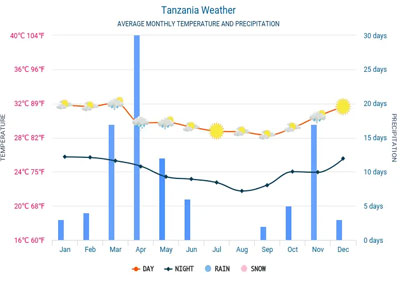 The best time to Visit Tanzania for Beach Lovers
Exploring the pristine white sandy beaches of Zanzibar during your visit to Tanzania is a perfect way to relax and take part in sports activities.
The best time to visit Zanzibar
July and August Are the dry months and perfect for travelers to soak some sun in the sun without any rain.
February and March These months receive very little rainfall in the Zanzibar area. The main attraction is the Swahili music festival, Sauti za Busara. The perfect environment for your beach holidays.
The best time to Visit Tanzania for Hikers
Tanzania is home to one of the seven summits of the world, Mount Kilimanjaro. The best time to climb Kilimanjaro is during the dry seasons. Although this mountain can be scaled all around the year, the dry months of January to March and June to October are usually preferred by hikers.
Key Tip
Avoid the Green Season from March to May due to the heavy showers. Then choose your time based on the different adventures you want to indulge in.
All in all, knowing exactly what you want to experience in Tanzania when you are visiting this beautiful country will affect the time you pick for visiting places you intend to see. So, book your tickets according to seasonal delights and your preferences.