Kilimanjaro Gear List
Overview
Kilimanjaro Gear List As we all know Mount Kilimanjaro is a non-technical climb, meaning it requires no expertise to walk up this majestic summit. All one need is physical fitness and determination. But along with that, what you need is a good amount of high-standard equipment to keep you safe and comfortable throughout your Mountain Kilimanjaro climb. Here is an extensive Kilimanjaro Gear List that will help you pack the right kind of essential items while not burdening your bag.
1. Basic mountain climbing equipment
Day bag – This day pack has to be carried by you throughout the day while you walk up the mountains. A size of 30-40 L should be sufficient to carry your essentials for the day.
Waterproof duffle bag- It will carry all your equipment. An 80-90 L duffle bag is recommended.
Sleeping bag- A 4-season sleeping bag and a sleeping mat for extra insulation will be enough for you. Additionally, you may get an inflatable pillow.
Trekking poles- Absolutely necessary for trekking. They are great because they reduce the impact on joints. 3- Section, collapsible trekking poles are preferred.
Hydration Bladder - Should have a capacity of holding about 3-4 liters of water.
Neck gaiter or scarf- Bring a neck gaiter or bandana to avoid dust during the dry climate of Kilimanjaro.
Travel Tip: Don't worry about lifting that heavy duffle bag. We will get you, porters, to carry them for you.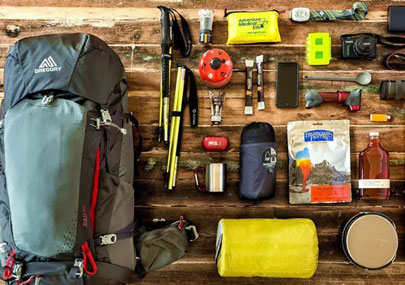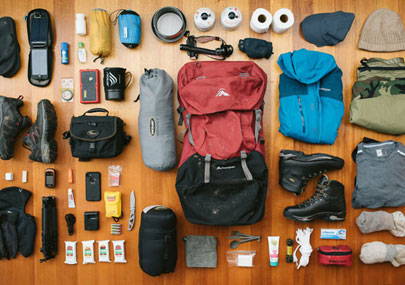 2. Climb-appropriate Clothing
Clothes should lightweight, breathable, and hand-washable. They should also be dried quite easily.
Layer them- Basically, for hiking, visitors are suggested to wear 3 layers of clothes.
For the base layer- Choose merino wool fabric or a combination of merino and synthetic. The function is to absorb sweat from the body.
Mid-layer- The mid-layer retains body heat simultaneously allowing sweat to get vaporized.
Outer layer- They are used to shed you from wind and rain while adding heat in cold conditions.
So, based on the above factors, we have designed a perfect Kilimanjaro clothing list for you. Take a look!
Clothing List
1 × Thermal base layer
3-4 × Short-sleeved shirt
1-2 ×long sleeved shirt
Fleece or soft shell Jacket
Insulated Winter Jacket
Hard shell outer jacket
Thermal leggings
1-2 pairs of Trekking trousers
Hard shell trousers
1 wind shell jacket/ Rain Jacket
3. Head Gear- Cover it to avoid Cold.
Warm hat- A beanie-style hat or Fleece Headband will keep you warm during the chilly cold weather.
Sun hat – A wide-brimmed hat with a neck cover will avoid sunburns and overheating.
Headlamp- It is needed when you need good light while going for late-night toilet journeys and the summit night.
Travel Tip: Sunglasses are important for protection against the UV rays of the sun which are very intense above 4500 meters above sea level
4. Hand Gear
Mittens- You need warm gloves or mittens during cold nights. It should be water-resistant and insulated.
Lightweight gloves- A pair of lightweight gloves which are quick-drying is needed for the lower slopes.
Travel Tip- The rule is heavy-weight warm gloves for the summit push and lightweight gloves for lower slopes.
5. Shoes and Socks
Trekking boots- The most important equipment in the trek. They should be mid-weight with good ankle support.
Training shoes- Bring them to walk around the camp after trekking for the entire day.
Gaiters- Only needed during rains to protect you from mud, snow, or pebbles from getting inside the boots.
Socks- 4-5 pairs of high-quality mid-weight to heavy-weight hiking socks are needed for the trek. New socks are preferred as they offer more warmth and padding. Woolen socks are great as they ensure fast wicking.
Travel Tip - Mid-weight trekking boots are the way to go. If you buy a new pair, get acquainted with them before the start of the trip.
6. Other Essentials
Plug adapter
Power Bank
Camera and batteries
Sunscreen and lip balm
Toiletries like toothpaste and toothbrushes
Snacks
Ear plugs
Wet wipes and hand sanitizer
Pee bottle
Personal medication
On the last note, regular climbers out there can buy all the necessary equipment mentioned in the Kilimanjaro Gear List as a one-time investment. For the rest, renting is also an option. This gives the option of saving money along with making your bag light.