Ruaha National Park
Ruaha National Park Overview
Ruaha National Park is situated just at the southern midpoint of Tanzania. It is bordered by the Rungwa and Kizingo Game Reserves. Together they make up one of the biggest conservancies in all of East Africa. The name of the park comes from the Great Ruaha River, which flows along the park's southeastern margin.
Northern Tanzania

20,226 sq. km. (7,809 miles)

Local Guide
Best Time to Visit
The Dry Season (from June to October) is the primary time for game viewing in Ruaha National Park. Although a visit during the wet season has its advantages too. Below is a comparison of visiting Ruaha National Park based on the two seasons:
Dry Season in Ruaha National Park

From June to October

Wet Season in Ruaha National Park

From November to April

Spotting wildlife is easier because of the thin vegetation.

The surrounding landscapes are vibrant and green.

Clear and bright skies with hardly any rainfall. And less humidity.

Fewer crowds and discounted costs.

Fewer mosquitoes mean fewer chances of contracting malaria.

Birdwatching is outstanding – due to the arrival of migratory birds.
A Piece of advice – Many accommodations around Ruaha National Park are closed in the month of April. So we recommend that you book your camps or lodges in advance.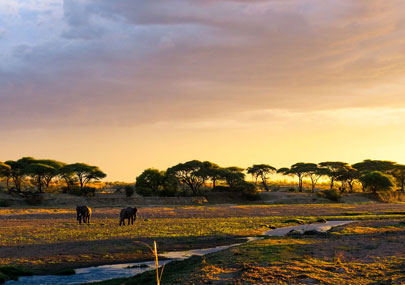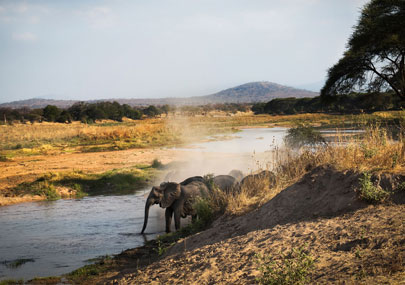 Activities
The one great aspect of Safaris in Ruaha National Park is the remoteness. The feeling of having the wilderness all to yourself is going to be a memorable experience. With that in mind, the following are some activities that we recommend you take part in while on a Tanzania Safari here.
Head out on a Guided Walking Safari – No better way of experiencing the Bush than on foot.
Visit the Jabali Ridge Spa – Relaxation is captured perfectly!
Bush Picnics – With smiles, sundowners, and stories; a great way to end a day!
Game drives – See the exceptionally varied wildlife of Ruaha on morning and evening drives. Or opt for a unique night safari!
Cultural excursions – Learn a thing or two about the rich culture of the Hehe people.
Wildlife
Ruaha National Park is renowned for the concentration of large elephants. There are over 10,000 of these gentle giants roaming across the park's vast plains. The Great Ruaha River offers an ideal habitat for Nile crocodiles and hippos.
On a safari here, you can also expect reliable sightings of large predators. Ruaha is home to around 10% of the African population of lions. There are 200 cheetahs in the park as well. And, Ruaha has the third-largest population of the endangered African-painted dogs on Earth. Leopards and hyenas are present in the park too.
Moreover, if you're a birdwatching enthusiast, then this park is a wonderland! Ruaha National Park has more than 550 species of birds. With endemic birds like lovebirds, Tanzania red-billed hornbills, ashy starlings, etc. Other species that you can also expect to see include – storks, six species of vultures, falcons, Eurasian hobby, and plenty more.
Map