Tarangire National Park
Tarangire National Park Overview
Imagine a mysterious woodland where countless elephants glide like silent ghosts between the towering trunks of larger-than-life baobab trees. You've just uncovered the best-kept secret of Tanzania's Northern Circuit: Tarangire National Park. The park's boundaries officially contain 2,600 square kilometers of wilderness, but the entire Tarangire ecosystem comprises approximately 20,000 square kilometers. This incredible expanse is rightfully celebrated as the home of Tanzania's largest elephant population. There are several distinct elephant groups which migrate in and out of the park throughout the year, taking advantage of the huge land area available to them. Because of this incredibly high concentration of elephants, visitors to Tarangire are virtually guaranteed to find a new family of these enchanting animals around every corner in the road.
Northern Tanzania Circuit

2,850 square kilometers (1,100 square miles.)

Local Guide
Things to Do in Tarangire National Park
But while Tarangire National Park is known best for its elephants, travelers who spend more time in the reserve will find themselves reaping incredible rewards. Tarangire's elevation ranges from 900 meters to 1,250 meters, allowing the landscape to support a wide array of different animal species. Major predators like the lion, leopard, cheetah, hyena, and wild dog can be spotted amongst the tall grasses and sun-dappled forests of Tarangire, while the park's abundant plains game includes zebra, wildebeest, buffalo, giraffe, impala, and a variety of other ungulate species. The park even boasts more than 500 bird species for eagle-eyed visitors to identify. Like most of East Africa, the park's diversity of wildlife can be partially attributed to the rainy seasons occurring from March to May and again from November to December. During the heavy rains, the winding Tarangire River serves as the primary source of water for much of the park's migrating wildlife. The river even gives the park its very name, which further speaks to the vital importance of this life-giving resource.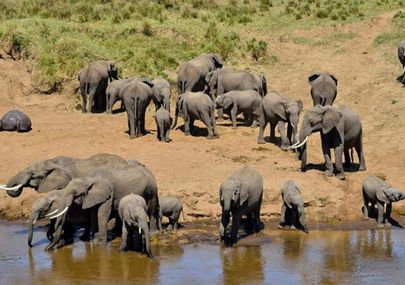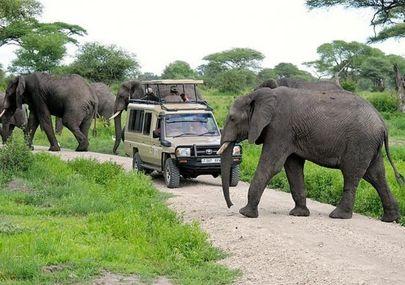 So don't make the mistake of skipping Tarangire National Park when you're enjoying your Northern Circuit safari in Tanzania. The park can be accessed from Arusha in just two hours, and it pairs especially well with a visit to the nearby Lake Manyara National Park, as well as Lake Natron. Returning travelers are consistently impressed with the scenic beauty and prolific wildlife of Tarangire—and visiting during different times of the year can reveal the striking seasonal differences that characterize the East African bush. In addition to enjoying typical game drives, you can opt for a hot air balloon safari, nighttime safari, or even a nature walk on your own two feet. But no matter which activities or season you choose, you're sure to leave Tarangire National Park with fond memories of magnificent baobab trees, wandering herds of elephants, and the strong sense of adventure and excitement that permeates every square inch of this massive wilderness.
Map