Kilimanjaro Foods
Overview
Eating well is one of the keys while a hiker is trying to acclimatize to conditions while Climbing Kilimanjaro. Many travelers assume that the food that is available up there in the mountains must be unappealing and tasteless. They expect Kilimanjaro foods to consist of dehydrated "ready-to-eat" meals and powder mixes. But, that's completely untrue! Travelers need continuous calories while "walking up" Kilimanjaro. After all, you are burning 6,000 to 8,000 calories per day. So, all you need to accomplish this hard task is to eat and drink well. So, travelers are provided with the best possible food.
What does a "Kilimanjaro Diet" look like?
The food that is made available to the trekkers are typically high-energy carbohydrate foods that are filling as well as easily digestible. A well-laid menu with a wide variety of options for breakfast, lunch, and dinner is served.
Let's get you through a sample menu.
| Breakfast | Lunch | Dinner |
| --- | --- | --- |
| Eggs as per your liking Potato hash browns Toast or banana bread Oat and millet porridge Baked Beans Sausage/Bacon Fresh fruits tea/ coffee/ cocoa | Leek soup and bread Fried chicken, French fries, coleslaw Ugali, vegetables, chicken drumsticks Salami Fresh fruit | Zucchini Soup with bread Pasta with meatballs, vegetable pizza Green Bean Salad Tiramisu |
Note: This is just a menu for one day in Kilimanjaro. A different menu is served on different days. Also, snacks are served including muffins/avocado toast along with tea/coffee/cocoa.
Our Specialty: We also have the option of providing vegan or vegetarian diets. We will cater to your dietary restrictions. Just let us know about them.
Exception: Sometimes it's difficult to source some exclusive ingredients which cannot be locally sourced as per the needs of our guests. In that case, we would urge our visitors to bring those ingredients with them. Otherwise, they can also bring their favorite "energy" foods which can give them an instant boost and replenish them.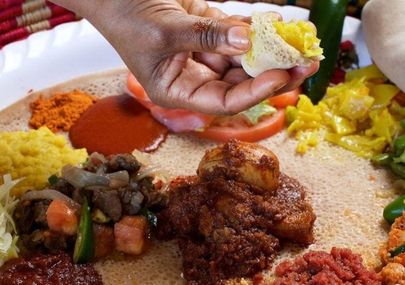 Importance of a carbohydrate diet in the mountains
It is a well-established fact that the appetite for food decreases at high altitudes. Scaling the mountains also means the body's energy requirements are also too high. With decreased appetite and increased energy requirements- the only source of food that the body craves is carbohydrates. A good carbohydrate diet at high altitudes is a prerequisite to alleviate the symptoms of acute mountain sickness (AMS). It increases the supply of oxygen in the blood and thus provides enough ventilation to hikers.
An insight- Research suggests that carbohydrates are absolutely essential for enhancing performance and speeding up the muscle recovery process at high altitudes.
Water Intake at Kilimanjaro
Water provided in the Kilimanjaro Mountains is boiled, treated, and purified. Staying hydrated is the key to climbing Kilimanjaro as it helps to acclimatize to the weather conditions. You can add some flavoring electrolyte powder to your water just to make it tasty.
Recommended water intake- Drinking about 3-4 liters of water should be your aim. Our chefs take it upon themselves to feed you well while you are busy gazing at the scenic Kilimanjaro. It's their duty to serve you hot and healthy meals which are fulfilling as well as hygienic. After all, a well-fed tummy will take you through the trails and help you summit Kilimanjaro Mountains.