Lake Manyara National Park
Lake Manyara National Park Overview
Across the stunning landscape of Africa's Great Rift Valley lies one of Tanzania's most celebrated safari destinations. This is Lake Manyara National Park: a dream come true for enthusiastic safari aficionados and one of the premier attractions on Tanzania's Northern Safari Circuit. The park was formally established in 1960 and now stretches across 325 square kilometers of scenic lakeside wilderness. The star of the show is Lake Manyara itself, a vast alkaline lake which encompasses approximately 230 square kilometers—but never exceeds three meters in depth. The waters of the lake expand in periods of heavy rain from March to May and November to December, but they retreat during Tanzania's corresponding dry seasons. This makes each visit to Lake Manyara National Park unique, with the cyclic ebb and flow of the water offering constant opportunities for creative photography. In addition to the lake which gives the park its name, this popular wildlife reserve is characterized by wide expanses of wetlands, floodplains, and forests.
Northern Tanzania

124 square miles (320 square km)

Local Guide
Things to Do in Lake Manyara National Park
Amongst the fig, baobab, and acacia trees on the shores of the water, you'll discover plenty of wildlife to keep you enthralled. The park is situated at approximately 960 meters above sea level, which allows for many different species to thrive here. Plains game like zebra, wildebeest, and buffalo are especially numerous, and fascinating predators like the cheetah, hyena, leopard, and bat-eared fox can also be found. Elephants and other herbivores migrate here from nearby Tarangire National Park, taking advantage of important wildlife corridors which link these two protected habitats. Keen-eyed travelers will want to keep on the lookout for Lake Manyara's famous tree-climbing lions, which can be found lounging in the branches to survey their kingdom from above. The park also serves as the home to more than 390 species of birds, including the exceptionally photogenic flamingos and pelicans which gather in great numbers right on the lake.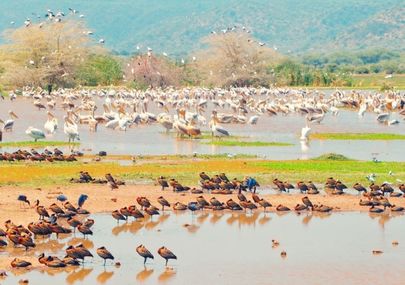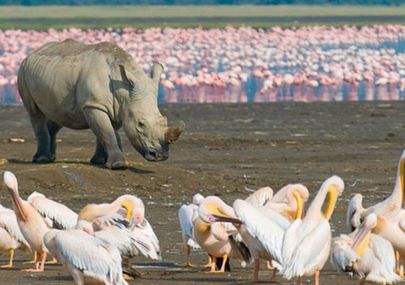 The best way to experience the natural splendor of Lake Manyara National Park is to embark on a classic game drive. The main circuit takes only a few hours to complete, but you can return at different times of the day to observe animals which are more active in the morning and evening. It's also possible to enjoy a nighttime game drive to see the park's many nocturnal species by the glow of a spotlight. A nearby treetop walkway can even lend you a bird's-eye view of Manyara's mysterious forests from about 18 meters above the ground. For an even more enchanting perspective, climb into a canoe and paddle across Lake Manyara—the park takes on an entirely new dimension from the water. Best of all, these exciting activities are easy to access. Lake Manyara National Park can be reached in just about an hour and a half from Arusha. The park is an important part of Tanzania's Northern Circuit, and you can also add on visits to the vibrant village of Mto wa Mbu or a local Maasai boma for additional cultural enrichment.
Map