Ngorongoro Crater
Ngorongoro Crater Overview
Ngorongoro Crater is unique even amongst Tanzania's incredible array of wild spaces. This enormous caldera is all that remains of an extinct volcano, dating back approximately two million years and comprising no fewer than 260 square kilometers of jaw-dropping wilderness. The walls of Ngorongoro Crater rise higher than 600 meters, and they enclose a surprising variety of landscapes where many of East Africa's most notable wildlife species roam free. You'll find rolling savanna where the rare black rhinoceros can still be found beside great herds of plains game, green swamps where hippos dwell, and lakeside forests where countless birds and monkeys weave their way through the canopy. The secret to Ngorongoro's diversity of habitats lies in its elevation. The crater floor sits at approximately 1,700 meters above sea level, allowing for wide swathes of open grassland to flourish, while the heavily forested crater rim rises to about 2,300 meters in elevation. The best lodges in the region are tucked amongst the trees here along the crater's rim, and visitors on safari can enjoy daily excursions into the heart of Ngorongoro on thrilling game drives which last all day long.
Northern Circuit

8 292 km²

Local Guide
Things to Do in Ngorongoro Crater
Ngorongoro earned its name from the tinkling sounds of Maasai cattle bells, which once were heard far and wide across the expanse of the crater. While Maasai pastoralists no longer graze their cattle within the crater itself, their cultural influence can be felt far and wide across the highlands of the region. In fact, the Ngorongoro highlands contain many more points of interest than the crater alone. The entire region is formally protected as the Ngorongoro Conservation Area, encompassing over 8,000 square kilometers of dazzling emerald beauty, where you'll encounter Maasai cattle herders alongside giraffes and wildebeest as you travel across the highlands. And in the far northern reaches of the Ngorongoro highlands, you'll find Ol Doinyo Lengai: a 2,878-meter active volcano known to local Maasai as the "Mountain of God." Aside from Ngorongoro Crater itself, it's easily the most striking feature of the entire region and an important cultural landmark for the Maasai.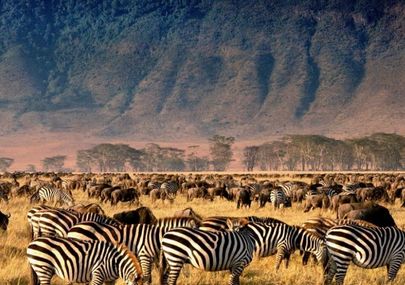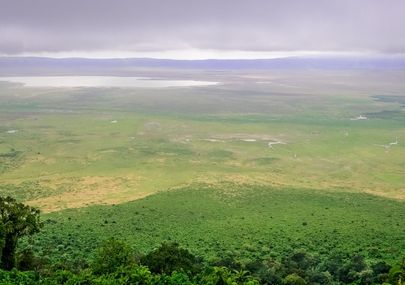 For enthusiastic wildlife aficionados, the greater Ngorongoro Conservation Area has plenty to recommend it. A visit to one or both of the smaller volcanic calderas called Empakaai Crater and Olmoti Crater will reward intrepid travelers with stunning scenery and prolific birdlife. For big game, you won't want to miss the plains of Ndutu. Situated between Ngorongoro Crater and Serengeti National Park, this lakeside acacia savanna is distinguished by its dense concentration of predators. Big cats like the cheetah and lion can be regularly found, and travelers with a discerning eye for the smaller animals of the bush will be especially delighted to discover the smaller cat known as the serval. And thanks to a great local road network, it's easy to combine your visit to Ngorongoro with other stops on Tanzania's Northern Circuit, including Tarangire National Park, Lake Manyara, and Serengeti National Park.
Map